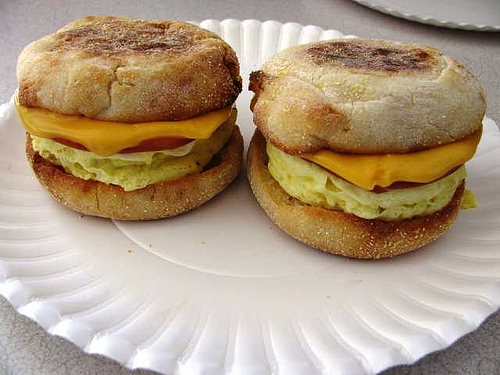 Since the kids are heading back to school next week, I thought I'd share one of my favorite quick and hearty breakfasts for the kids.  I have hesitated sharing this particular meal only because 1) it is really quite easy and seemed too simple to blog, and 2) It's origin is very embarrassing and painful:  McDonald's!
I resent nearly everything they stand for and pretty much everything they make, and the only item I can currently stomach at McDonald's is their cinnamon rolls (and possibly their iced coffee), but I confess that this particular recipe is directly derived/stolen from McDonald's Egg McMuffin.  I, of course, have refused to let "Mc-Anything" cross my lips as something I would cook or aspire to, and so I originally called it something like an "Egg, cheese, and bacon/ham/canadian bacon sandwich", to hide its true origin.   The kids in their younger years promptly shortened the name to "Egg Sandwich Thingy", a name that they have stuck with to this day.  Colleen, not so enamored with retro-baby talk, prefers to simply call them "Egg Sandwiches."  Call them what you want, but they are heartier than cold cereal, easier and quicker than pancakes or an omelet, and quite tasty!
The idea first came to me when I was using a ramekin dish to make scrambled eggs in the microwave for the kids (faster and easier cleanup than a frying pan), and one day it occurred to me that the  round scrambled egg patty I was making was remarkably similar in shape and size and form to what you would get on an Egg McMuffin.  I checked, and sure enough, it was almost perfectly sized for an English muffin.  I toasted one up, slapped some ham and cheese on the egg, put it all together, and voila—a beautiful breakfast sandwich!  I have since used bacon (usually chopped), sandwich ham, smoked ham, sausage, and Canadian bacon (the leanest of the alternatives) with everything from American cheese to cheddar, to Monterey Jack, to shredded Mexican cheese on both regular and wheat English Muffins, and all the variations have turned out great.
I've also since upgraded from the simple ramekin covered with a paper plate (a paper towel was too flimsy when the egg would occasionally pop inside the microwave), to two different "professional" microwave egg poachers, a single egg model, and a double egg model.  For this post, I did one in the ramekin, and two in the double cooker, just because I use slightly different techniques for each.
The process really only takes 5-10 minutes, and is easy enough that my 12 year old son can make it himself.  To prove it, I've used Hunter as the chef here today (and thanks to daughter Kellie for the photography!).
Pretty simple ingredients.  The muffins, eggs, cheese, Canadian bacon, and mustard (optional).
I always start by putting the muffins in first. If I work efficiently, by the time the muffins are toasted, the rest of the sandwich will be ready for assembly.  Here I've got two sourdough muffins and one whole wheat.
First the ramekin version:
When using a ramekin, lightly coat the inside with a non-stick spray and you can break the eggs directly into it.
Add a couple tablespoons of milk and some ground pepper if you wish and mix 'er on up.
A perfectly scrambled egg, after one minute in the microwave–don't forget to cover the ramekin with a paper plate during cooking to avoid egg shrapnel all over the inside of your microwave!
See how perfectly the Canadian bacon fits?  When cooking in the ramekin, you can then layer the Canadian bacon and the cheese directly onto the scrambled egg, and then reheat for 15 seconds to lightly melt the cheese.
I generally fold the corners of the cheese to make it rounder to better fit the egg and ramekin before melting.  The more melted cheese drips off the sides of the egg into the dish, the less likely it is to come out of the ramekin cleanly in the penultimate step.
Colleen and I prefer to put sweet hot mustard on our sandwiches, but the kids eat them without.
Place a half a muffin on top of the melted cheese, meat and egg, then flip it over on a plate.
Sometimes it will take a smack or two on the bottom of the ramekin for the egg to release, and sometimes even the judicious application of a fork or knife to dislodge it, but this is how it pops out when you are done.
Slap on the other half of the muffin, and you've got a complete sandwich!
With the double egg cooker I have, the egg compartment is a bit smaller, so the following steps are just a little bit different:
It is easier with this size egg cooker to mix the eggs in a separate bowl before pouring it into the cooker cups (already coated with non-stick spray).  I do still blend the eggs one at a time just to be sure the cups are equal.
Hunter likes a little pepper in his eggs, Kellie does not.  You can add some salt if you wish as well.  Hell, add some basil, parsley, red pepper flakes, or whatever else you want to flavor your eggs with.
Close the lid and microwave for 90 seconds for two eggs (60 seconds for one).
The smaller egg cups make it more difficult to complete inside the egg coooker, so it is easier to complete the sandwich directly on the muffin, rather than in the ramekin like the other version.
Stack the Canadian bacon and the cheese (corners folded again, to make it less drippy) on top of the egg, and put it in the microwave for 15 seconds or so–enough to slightly melt the cheese, without turning it to liquid
Add the top muffin half and you've got two beautiful breakfast sandwiches in less than 10 minutes!
EGG SANDWICH RECIPE
(Per Sandwich)
1 Egg
1-2 Tbs Milk
Salt – optional
Pepper – optional
1 English Muffin (original, sourdough, or wheat)
1 Slice cheese (American, cheddar, fat free, whatever)
1 Slice Canadian Bacon (or 2 slices lunch ham, or bacon, or whatever)
Mustard – optional ( Sweet Hot Mustard is our favorite, but ymmv…)
Ramekin Method:
Toast English Muffin
Coat 3-inch ramekin with non-stick spray or oil
Break egg in ramekin
Add milk, and a pinch of salt and pepper, if desired
Mix eggs in ramekin
Cover with paper plate, microwave 1 minute
Place layer of Canadian bacon on egg
Place layer of cheese on egg (fold corners for less meltage mess)
Cover with plate again and microwave for 10-15 seconds (just enough to soften cheese without liquefying it)
Place one side of toasted muffin on top of cheese in ramekin, and turn dish upside down on plate.  Smack bottom of ramekin or use fork or knife to dislodge egg from ramekin if necessary
Spread mustard on other half of toasted muffin, if you wish
Place on top (bottom, really–I always turn it cheese side up to eat) of egg and eat!
Double Egg Cooker Method:
Toast English Muffin
Coat egg cooking cups with non-stick spray or oil
Break egg in bowl (only do one egg at a time initially)
Add milk, and a pinch of salt and pepper, if desired
Mix egg in bowl
Pour mixed egg into cooking cup
Repeat with other egg if doing two at once
Close cooker lid, and microwave one minute for one egg, or 90 seconds for two
Place toasted muffin half (or halves) on paper plate.  Spread mustard on it if you wish now.
Lay cooked egg cups on top of muffin halves.  You may need to use a fork or knife to make the egg come out cleanly on the muffin.
Place layer of Canadian bacon on egg
Place layer of cheese on egg (fold corners for less meltage mess)
Place half-sandwich(es) in microwave for 10-15 seconds (just enough to soften cheese without liquefying it)
Place second muffin half on top of cheese and eat!
Gourmeting it up: You can use nice cheese, you can use prosciutto or some other fancy meat, and add some basil or other fresh herbs in the eggs to make it a bit less McDonald's-ish.
Healthy cooking note: Colleen tells me that when we use whole wheat muffins, Canadian bacon, and fat free cheese, this counts as healthy and is a good source of protein for a day of hiking or other physical activity.  I tend to believe her, but the proof will be when she retroactively edits this and adds the Weight Watchers Tag…